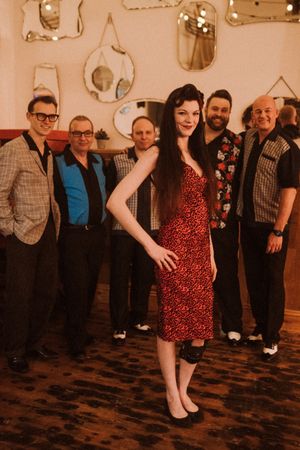 Whiskey Jean & The Chasers
We Are 1950s style 6 Piece Dance/Jive band, with Both Female & Male Powerful and Strong lead Vocals!! In the Band we have Keys, Lead Guitar, Drums, Double Bass & Rhythm Guitar.
Having both male and female lead vocals gives us a bit of a twist compared to most Rocking bands today, and this enables us to be truly unique and  diverse with our choice of songs. 
UK Rock 'n' Roll Magazine Quoted that Matts version of "Treat Me Nice" was the meanest version since Presley!!
Whiskey Jean has also been likened to Little Miss Dynamite (Brenda lee)
Whiskey Jean is such A petite person with such a big voice!!
  We Play songs from many artists & Styles of the 1950S, As well as Some from 1950s revival artists Plus our Very Own Original 1950S Style Songs which you can listen to on most major music streaming platforms.