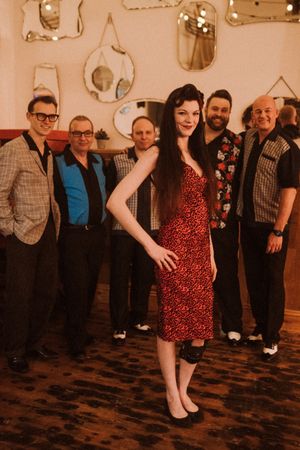 The Band & Reviews
To Find out more about the band & its members read on below
Or to Read Our Band Reviews Click Here!!  
We Have Reviews from Uk RnR Magazine, Blue Suede News, Previous Clients & more!!
Brand New Line up 2023
Whiskey Jean - Lead Vocals & Rythym Guitar 
Matt "Fats" Collins - (Mr Harmonisation) Lead Vocals 
Mark Widdowson (Twinkles) - Piano 
Chris "Cha Cha Cha" Henson - Drums 
DanNY Gill - Double Bass & Vocals
Dennis Smith - Lead Guitar 
About The Band
Whiskey Jean & The Chasers are a 1950s style Band performing many Classic 1950s jivers & strollers and the odd Bopper as well as performing our very own 1950s Style Rockin Original Tracks for your dancing pleasure!! With a great combination of lead female and male vocals the band offers great diversity to suit most crowds, Events, Weekenders or Festivals! 
Formed in 2019, all members have lots of gigging experience perfoming live shows up & down the country at many different kinds of event or venues. from Private functions to Rock n Roll Clubs, Pubs, Cafes to big corperate events & Festivals, No Gig too big or too small! All Gigs Considered 
We are a 6 Piece band consisting of Keys, drums, Bass, Lead & Rhythm Guitarists and dual fronted by Sharon (Whiskey JEan) & Matt.
The Band Name..........
So why Whiskey Jean? Sharon aka Whiskey Jean had a very close friend who she considered Family called Jean who sadly passed away. with no children of her own she treated sharon as if she was her own, developing a very strong bond between them made to last! So in her memory we have called the band Whiskey Jean to keep this amazing womans legacy going for many more years to come! Loved very much and never to be forgotten!!